CAD-1874800-direct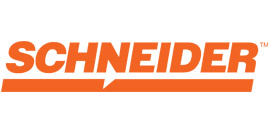 Over-the-Road (OTR) Truck Driver
3 days ago
Job Details
Employment Type
Driver Training
Description
Over-the-Road truck drivers earn up to $0.48 per mile* starting pay with a weekly performance pay up to $0.04 per mile and a schedule of 2 weeks out and 1 week home in our unique "home run" configuration. Three drivers will share two trucks in this CDL driving job, which means you get maximum home time while still receiving full-time benefits. OTR truckers haul 95% no-touch freight and average 2,500-3,000 miles per week. If you want to explore the country and rack up the miles, there's no better way than jumping behind the wheel as an Over-the-Road driver for Schneider. Start your OTR trucking career in Schneider's Van Truckload division today! Looking to become a truck driver? Learn how
here
, give us a call at
1-800-447-7433
or text "Chat" to 28000 today!
Eligible CDL Truck Driver Applicants:
All Class A CDL holders
Over-the-Road Truck Driver Pay
Up to $70,000 per year*
$5,000 sign-on bonus per experienced drivers
Performance pay up to $0.04 per mile more, paid out weekly
$0.01 per mile automatic annual pay increase
Potential accessorial pay for detention, layover, hand load/unload
Higher pay: Inexperienced OTR mileage rates, for example, have increased 17% in the last two years
*Based on CDL driver experience, performance and location
Over-the-Road Truck Driver Benefits
Medical, dental and vision insurance, plus flexible spending options
401(k) savings plan with company match
Paid orientation and time off
Up to $7,000 tuition reimbursement (paid at $200/month) for qualified drivers
Credit for Military Experience and Military Apprenticeship programs, plus more military benefits
Many more - see full list of benefits
Over-the-Road Truck Driver Qualifications
Valid Class A Commercial Driver's License (CDL)
Automated transmission CDL restriction allowed
Live within 100 miles of Memphis, TN
Hazmat endorsement preferred
Passport, FAST card or Enhanced CDL opens more opportunities
More Reasons to Choose Over-the-Road Driving at Schneider
Mobile apps to increase driver productivity, locate equipment, expedite access and more
No employment contract - we don't lock you in, but you'll want to stay
Nationwide facility network, many locations offering free showers, laundry, WiFi, exercise equipment, TV lounges, cafeterias and more
Nationwide parking network with 24/7 access to free and safe parking
Advantage Club - after five years with Schneider, you'll be admitted to this exclusive club with a variety of unique opportunities paid for by Schneider
Learn more about Over-the-Road driving
Why Schneider?
It's all here. With so many benefits and a set of core values we actually live by - safety, integrity, respect and excellence - Schneider is the destination for truck drivers, and has been since 1935. Take your career to the next level today. "It's never an issue to get home when I need to, and the freight is always available when I want it." Chris, Schneider driver Join one of the top trucking companies in Tennessee. Call 800-447-7433 for more information about becoming an Over-the-Road truck driver with Schneider!
Job
Company Driver
Schedule
Full-time
Sign On Bonus
5000

PI114107801
See More
Driver Requirements
DUI/DWI
None in the last 5 years
Moving Violations Last 3 Years
Max of 4
Preventable Accidents Last 3 Years
Max of 3
Benefits
Savings
Retirement Plan
Stock Options
SIMILAR JOBS
SC Regional Truck Driver - Home
Careers In Trucks LLC
Memphis, TN
44¢ - 53¢ Per Week
View Details
CDL-A Dedicated Flex Truck Driver - LRK North Little Rock
Averitt Express, Inc.
North Little Rock, AR
$65,000
View Details