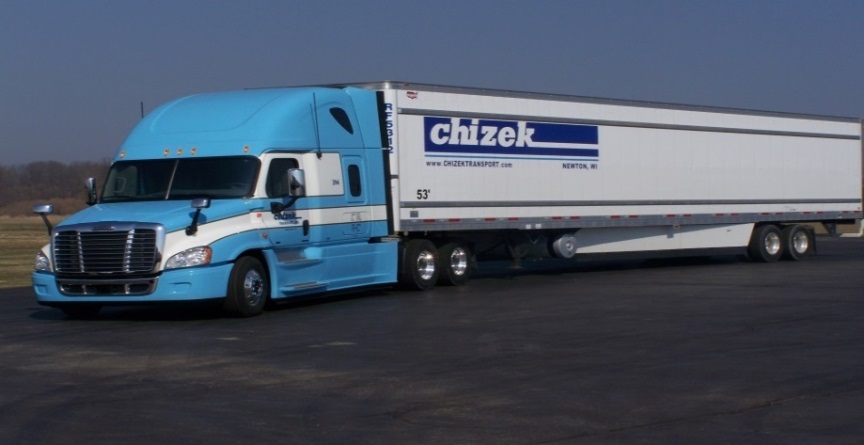 Thank you for inquiring about a driving position with Chizek Transport, Inc. Chizek is a family business that has been in operation for almost 60 years. We've grown at a sustainable rate over the years and currently have 100 trucks in operation. We are located Newton, WI. We transport a wide variety of goods 53' dry vans and refrigeration division from Wisconsin to various points throughout the Midwest.
We are a company that values experienced, professional drivers. Our current compensation package for company drivers are as follows:
$500.00 SIGN ON BONUS
Outstanding experienced drivers with good driving record have the opportunity to earn up to .48 cents per mile, (Top of pay scale) on all dispatched miles.
Starting pay is based on verifiable OTR experience. (DOE)
Minimum of 1 year OTR experience is required.
Extra stop pay: $15 per stop after the 1st stop.
Drop and hook NO touch freight, lumpers are authorized.
Truck washes: Available in the yard
Holiday Pay: Six (6) different Holidays are paid for. (After 90 days).
Vacations: 1 week after 1 year; up to 4 weeks after 15 years.
Health Insurance: Available after 60 days.
Trucks: All Freightliner equipped Detroit Diesel Engines and Fuller 10 speed Transmissions
Qualcomm Equipped
The above benefits are to be used as an outline only.
For more information on any or all of the above benefits please call.
Ask about our Lease Purchase Program – CALL NOW!!!
Owner/Operators Lease Purchase drivers are paid, all loaded & empty miles.
For more information on any or all of the above benefits please call:
800-477-7565