CAD-2504553-direct
Job Details
Salary Info
$1,700 - $1,800 Per Week
60¢ Per Mile
Employment Type
Company Driver
Description
Wanna Earn $1500 or More Per Week ??

No Northeast Runs Ever ...

NEVER Go To: OH, PA, MD, NJ, NY
or any of the New England States
Ready To Earn $0.50 CPM ...
Plus A $5,000 Driver Retention Bonus??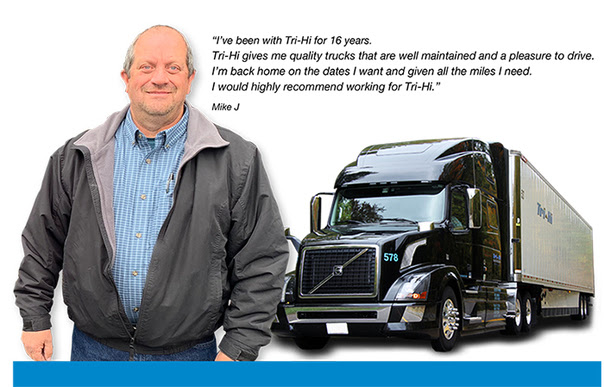 Looking for 10 Quality, Qualified Drivers
Don't You DESERVE to be driving for a world-class carrier?
Tri Hi Transportation
, a world-class OTR carrier, is looking for "Top Performing Drivers". Drivers that understand what it is to be a "professional truck driver" ... and
Tri Hi Transportation

is willing to provide a strong, stable, career for those drivers. Many of
Tri Hi's

drivers have been there 10 years or more!!
With their OTR opportunities,
Tri Hi Transportation

can keep you moving with 100% No-Touch freight, for high-quality customers running from the Midwest to the West Coast & Southeastern States.
Plus ...
Earn $1,500 Plus Weekly - $0.50 CPM
$5,000 Driver Retention Bonus
Home Every 2 Weeks In Selected Areas

Avg Weekly Miles : 2750 - 3200 miles or More

Avg Length of Haul : Over 1100 miles

100% No Touch Freight

Great Equipment ...

Peterbilts, Volvos & Freightliners
APU's, Inverters & Refrigerators
Pet and Rider Policy

Strong Christian-Based Leadership Team & Company
See More
Driver Requirements
Experience Required
1 year
Benefits
Savings
Retirement Plan