CAD-2270142-direct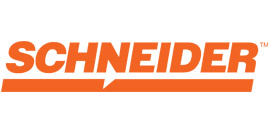 Class A CDL - Team Truck Driver
2 days ago
Job Details
Employment Type
Company Driver
Description
Team truck drivers are among the highest compensated in Schneider's fleet. Team driving jobs in our Van Truckload Division feature a predictable work schedule up to $0.53 per mile* starting pay and 95% no-touch freight (mostly drop-and-hook). Teams average 5500 miles per week (with choice to run more or less) with an 1100-mile average length of haul. The wheels are always turning as a Schneider Team driver which adds up to more miles and money than a solo driver. Best of all you'll split the miles not your pay while enjoying the company of a partner. Start your Team trucking career with Schneider in California.
Schneider offers two options for team partners: Get paired through the Team Matching Program or bring your own qualified partner. Both of you need to apply.
Looking to become a truck driver? Learn how here give us a call at 1-800-447-7433 or text "Chat" to 28000 today!
Eligible CDL Truck Driver Applicants: All Class A CDL holders
Team Truck Driver Pay
Up to $72000 per year*
$7500 sign-on bonus for experienced drivers
$2500 sign-on bonus for inexperienced drivers
Performance pay up to $0.04 per mile more paid out weekly
Up to $0.02 per mile annual pay increase per driver
Additional $0.01 per mile when both team partners have HazMat endorsement
*Based on CDL driver experience performance and location
Team Truck Driver Benefits
Medical dental and vision insurance plus flexible spending options
401(k) savings plan with company match
Paid orientation and time off
Up to $7000 tuition reimbursement (paid at $400/month) for qualified drivers
Credit for Military Experience and Military Apprenticeship programs plus more military benefits
Many more see full list of benefits
Team Truck Driver Qualifications
Valid Class A Commercial Driver's License (CDL)
Must park in French Camp CA or San Bernardino CA
HazMat endorsement preferred
Passport FAST card or Enhanced CDL opens more opportunities
More Reasons to Choose Team Driving at Schneider
No employment contract we don't lock you in but you'll want to stay
Nationwide facility network many locations offering free showers laundry WiFi exercise equipment TV lounges cafeterias and more
Nationwide parking network with 24/7 access to free and safe parking
100% Van Truckload Team trucks have automated transmissions with an average age of 8 months
Team driver advisors current or previous top-performing Schneider Teams provide insights and tips
Learn more about Team driving
Why Schneider?
Safety isn't a buzzword — it's a way of life at Schneider. Nothing we do is worth harming ourselves or others. Drivers love that and it's just one more thing that's separated Schneider from the rest for over 80 years.
"I like that Schneider promotes safety all the time. The rules don't change from one person to the next. Schneider teaches you the correct way to operate a vehicle without any shortcuts." David Schneider driver
Join one of the top trucking companies. Call 800-447-7433 for more information about becoming a Team truck driver with Schneider!
Schneider uses E-Verify to confirm the employment eligibility of all newly hired associates. To learn more about E-Verify including your rights and responsibilities please visit www.dhs.gov/E-Verify.
Job
Company Driver
Schedule
Full-time
Sign On Bonus
7500

PI133850224
See More
Driver Requirements
DUI/DWI
None in the last 5 years
Moving Violations Last 3 Years
Max of 4
Preventable Accidents Last 3 Years
Max of 3
Benefits
Savings
Retirement Plan
Stock Options
SIMILAR JOBS