CAD-2119257-direct
Pay Increase - CDL A Truck Driver
Posted Today
Job Details
Employment Type
Company Driver
Description
We offer several different routes here at
Arnold Transportation
!
Below are great reasons you should choose Arnold as your next driving career!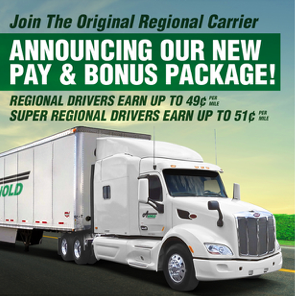 We have a NEW Pay Increase, NEW Stop Pay, and a \$3K Sign On Bonus that's Paid Out Weekly! Apply today for your NEW driving career with Arnold Transportation!
* Our Regional Drivers will
Earn up to \$0.49 CPM
and get home every other weekend for 48 hours!
*Our Super Regional Drivers will
Earn up to \$0.52 CPM
and get home every weekend for 34 hour reset on Saturday or Sunday!
* \$3,000 Sign On Bonus! PAID OUT WEEKLY!
- Southwest Regional Lanes! We keep you in your region by
only
running in 11 states!
- We are the #1 Regional Carrier!
- We don't travel NE or NW!
- Paid Vacation!
- Stop Pay Increase!
- One of the best CSA scores in the industry!
- No slip seating! 85% of our Equipment is 2015 or newer.
- No sliding pay scale. Paid all miles loaded and empty!
- One of the best benefit packages in the trucking industry.
- Rider and Pet Friendly
- Approximately 25 to 1 Driver to fleet manager ratio!
A growing company with advancement opportunities that treats you like a team member not a truck number! Come grow with us! Give us a call today to get started next week! We will be glad to take your information over the phone or you can apply!
See More
Driver Requirements
Experience Required
6 months
DUI/DWI
None in the last 3 years
Moving Violations Last 3 Years
Max of 3
Preventable Accidents Last 3 Years
Max of 3
Benefits
Savings
Retirement Plan
Profit Sharing
Stock Options
SIMILAR JOBS